In this program, we are dedicated to
developing a healthy lifestyle and
championship mindset.


With the boxing discipline at its core
AOBC (Ashira Oure Boxing Club) oers a wide range of services, including strength and conditioning, boxing lessons, circuit training, co-operate classes, group classes, health checks and nutrition advice.
AOBC can also provide injury services, as we are working closely together with the physiotherapists at Well-Come Fitness and Spa. This means that we can provide innovative management plans, including manual therapy, clinical rehabilitation and specialized treatment – always put in context to the overall physical health.
We believe that in oering this full-service holistic approach, our clients receive the mindset of a comprehensive and unrivaled champion, in their goal for a healthy lifestyle.
Learning how to train like a Champ…and, therefore, gain success in a healthy lifestyle – and creating a Championship mindset.
The program will run for 8 weeks and will will help you burn fat and build muscles!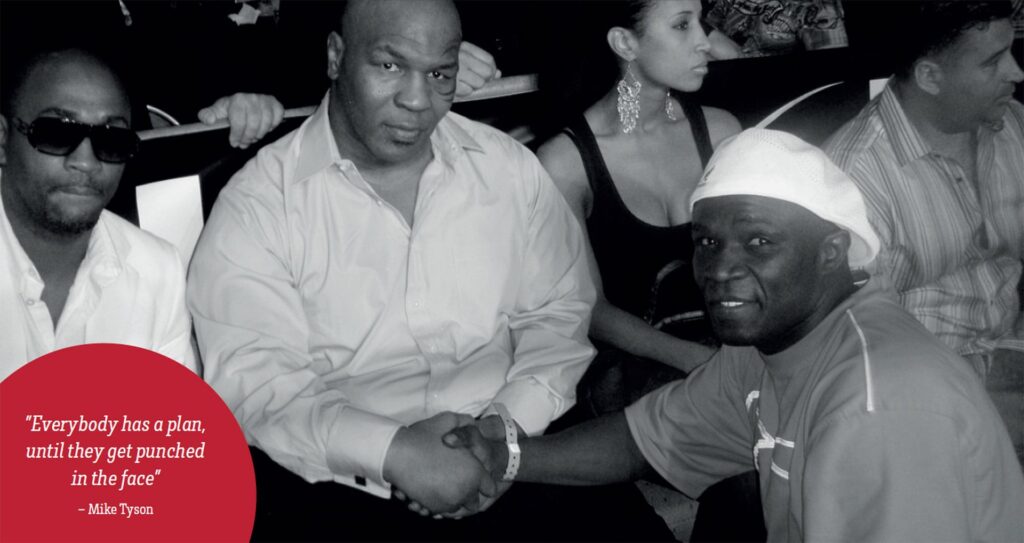 Boxing History
The earliest evidence of boxing dates back to Egypt around 3000 BC.
The sport was introduced to the ancient Olympic Games by the Greeks, in the late 7th century BC, where soft leather thongs were used to bind boxers hands and forearms for protection.

On January 6th, 1681, the first recorded boxing match took place in Britain when Christopher Monck (2nd Duke of Albemarle, and later Lieutenant Governor of Jamaica) engineered a bout between his butler and his butcher, with the latter winning the prize.
Early fighting had no written rules.
The First Million-Dollar Gate
The Dempsey–Carpentier contest took place on July 2nd, 1921, at Boyle's Thirty Acres in Jersey City, New Jersey. It generated the first milliondollar gate in boxing history; a crowd of 91,000 watched the fight. Though it was deemed "the Fight of the Century", experts anticipated a one-sided win for Dempsey. It was also the first heavyweight championship fight, where women attended in great numbers.
Floyd "Money" Mayweather (New Generation Champion) crowned thegreatest boxer of all time. 'MONEY' held multiple world titles in five weight classes, and is not only regarded as one of the greatest defensive boxers of all times, but the most rounded – coming from nothing, building an empire both financially and athletically. Forbes listed the champion as the highest-earning athlete in the world from 2012 to 2015 where the sport has become one of the hardest and most rewarding sports. Ashira spared and trained Floyd Maywether for few fights.
The African Warrior
Ashira Oure is a 2 x Champion of the World, and 2 x World title challenger. Ashira competed in the 1996 Olympic Games in Atlanta, Georgia. He is an African Champion, a Commonwealth Champion and 5 x Kenya National Champion. Ashira Oure has a solid boxing background, his uncle Owiso Oure battled former Ugandan president Idi Amin while he was still in the military. Ashira Oure has 3 Olympians in his family: Cherles Owiso, 1984, Los Angeles, USA. Joseph Akhasamba, 1988, Seoul, South Korea – and Ashira Oure, 1996, Atlanta, USA. Same Olympic like Floyd Mayweather, Antonio Tarver, Valmir Klitschko.


Champion nutrition mindset
As Champion you need to know why nutrient density is more important than caloric content. An advantage of counting macros (macros are the nutrients you need in large amounts, as they provide your body with the calories it needs to function. You probably know them better as carbohydrate, protein, and fat) is that it ensures some of the essential nutrients to be incorporated into your diet, instead of focusing solely on calories. Counting calories takes no account of nutrients. That's why we need to stop the calorie-counting and focus on nutrients instead. You'll likely enjoy more satiety, less inflammation and better recovery.
The 11 most Nutrient-Dense foods on the planet:
1 Salmon – not all fish are created equal
2 Kale – of all the healthy leafy greens, kale is the king
3 Seaweed – the sea has more than just fish
4 Garlic – really is an amazing ingredient
5 Shellfish – many sea animals are high in nutrients,
but shellfish may be among the most nutritious of all
6 Potatoes – are rich in vitamins, minerals and antioxidants
7 Liver – is one of the most nutritionally dense foods
on the planet
8 Sardines – are very high in protein
9 Dark chocolate – is one of the best sources of
antioxidants on the planet
10 Egg Yorks – contains lutein and zeaxanthin
– that support eye and brain health
11 Blueberries – an antioxidant SUPERFOOD
DIETARY PLAN
Can be adjusted to suit individual needs. View more dietry plans on www.trainlikeachamp.dk.
SAMPLE 1
Breakfast: Greek yogurt with whole grain granola and berries.
Snack: Turkey breast with carrots and celery sticks.
Lunch: Grilled chicken breast over spinach with sliced strawberries and almonds.
Snack: Protein shake.
Dinner: Shrimp stir-fried with peppers, onions, and broccoli over brown rice.
Breakfast: Whey protein powder shake – calories; 500+ gr.
Lunch: 200 gr. chicken breast, 125 gr. brown rice, tablespoon of olive oil and vegetables.
Dinner: Try out 100 gr. of quinoa and add in 90 gr. mackerel (fish) with vegetables.
Breakfast: 30 gr. protein powder with 30 gr. peanut butter, 75 gr. oats and cinnamon.
Lunch: 200 gr. salmon, 125 gr. buckwheat and vegetables – nearly 900 calories!
Dinner: 200 gr. sweet potato with 100 gr. lamb and vegetables – but a mere four-fifty calories.
Terms & Condition – Privacy Policy
Return and Refund Policy – Payment/Subscriptions